Note: This post is part of our series, "Netflix Academy: The best educational videos available for streaming." Be sure to check out our previous Netflix Academy posts on dinosaurs; the American founders; aquatic life; the Maya, Inca, and Aztec; Native American cultures; Christopher Columbus and the Age of Discovery; and movie adaptations of classic children's books. Thanks to research interns Melissa Reynolds and Singer Crawford for their help in compiling these lists.
One reason I love the Core Knowledge Sequence is because of its commitment to building a common American culture. Even pop culture isn't so common anymore, what with our ever-splintering media environment. But surely all American kids, no matter their backgrounds or zip codes, should learn about our country's folk heroes: Daniel Boone, Davy Crockett, Annie Oakley, and many more. Here are some videos and movies to get you started.
The best streaming videos on Daniel Boone, Annie Oakley, and other American folk heroes
1. Daniel Boone, Trail Blazer
Daniel Boone leads settlers into Kentucky, but he must battle Shawnee Indians who have been persuaded by a French renegade that Boone and the settlers are there to kill them and steal their land.
Length: 85 minutes
Rating: PG
2. Daniel Boone & The Wilderness Road
The westward movement began with Daniel Boone expanding the old Cumberland Gap Trail into a road capable of handling wagonloads of emigrants from the eastern-seaboard states. Animated maps show Boone's travels and his tragic and proud life.
Length: 21 minutes
Rating: NR
3. Davy Crockett, Told by Nicolas Cage with Music by David Bromberg
The ultimate American backwoods legend, this lively tale follows the original ring-tailed roarer of the western woods through outlandish adventures, including the Battle of the Alamo, where he literally brags himself into American history.
Length: 23 minutes
Rating: NR
4. Heroes of the Alamo
This is the story of the events leading up to, and during, the attack on the Alamo by the Mexican Army in 1836, from the perspective of two newlyweds. It includes William B. Travis's famous "Line in the Sand" speech, with Jim Bowie and Davy Crockett crossing that line, and the siege of the Alamo by General Santa Anna's 15,000 troops against the 183 defenders, who all die in the last stand.
Length: 118 minutes
Rating: NR
5. Days of Jesse James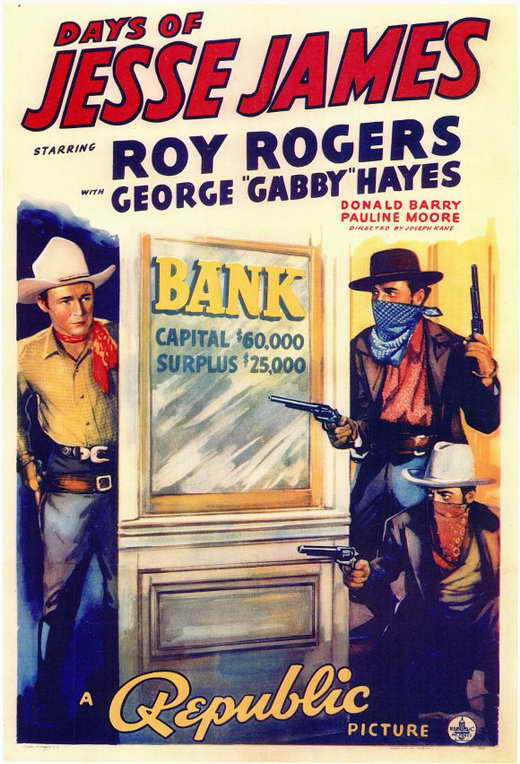 After a robbery at Northfield Bank, Roy Rogers is sent to ferret out those assumed responsible—Jesse James and his brother Frank. Rogers quickly finds that the brothers might not be to blame, instead shifting his focus to another suspect.
Length: 53 minutes
Rating: NR
6. Custer's Last Stand
A mystical medicine arrow, the key to a lost gold treasure, is lost in one of many Indian attacks. It is recovered by the only two survivors, a major and his daughter, who become the targets of those who wish to possess it. General George Armstrong Custer and army scout Kid Cardigan attempt to stop the ensuing war over the arrow but fail in their efforts, which becomes the historic Custer's Last Stand. Many historical figures and western stars of the time appeared in cameos in the feature, including Calamity Jane, Elizabeth Custer, Buffalo Bill Cody, Sitting Bull, Wild Bill Hickock, and Chief Crazy Horse. A fun, if not historically accurate, Wild West tale.
Length: 71 minutes
Rating: NR
7. Annie Oakley, Told by Keith Carradine with Music by Los Lobos
An angel in buckskin on a big spotted horse, Annie Oakley was the star of Buffalo Bill Cody's famous Wild West Show for almost twenty years. This is the spirited tale of a frontier woman whose sharp-shooting exploits brought her international fame.
Length: 24 minutes
Rating: NR
8. Annie Oakley TV Show
This is a fictionalized account of the life of legendary Wild West sharpshooter Annie Oakley. It is set in the quiet western town of Diablo.
Length: 106 minutes
Rating: NR
9. Scholastic: Amazing America, Episode 2: "Johnny Appleseed"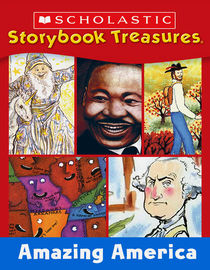 The botanic achievements and stories of John Chapman (a.k.a. Johnny Appleseed) are presented in their very best verse and art in this animated tale.
Length: 11 minutes
Rating: TV-Y