Note: This post is part of our series, "Netflix Academy: The best educational videos available for streaming." Be sure to check out our previous Netflix Academy posts on dinosaurs; the American founders; aquatic life; and the Maya, Inca, and Aztec. Thanks to research interns Melissa Reynolds and Singer Crawford for their help in compiling these lists.
Welcome to Week Two of our Columbus Day unit. Last week we tackled the ancient American civilizations of the Maya, Inca, and Aztec. Next week, we'll do the Age of Discovery (including Mr. Columbus himself). This week, it's Native Americans in the spotlight.
There's no lack of content on Native Americans online; we've selected a mix of documentaries, fictionalized stories, and animated shows that do a great job introducing elementary school students to this essential part of U.S. history. As with any videos (or books) for young children, it's essential that parents participate in the learning process, especially to help explain, in age-appropriate ways, the more tragic aspects of Native American history.
As always, if you find other videos worth watching, please share them in the comments section below.
Best videos on the Native American cultures available for streaming
1. American Experience: We Shall Remain
From the award-winning PBS series American Experience comes "We Shall Remain," a provocative multi-media project that establishes Native history as an essential part of American history.
Length: Five 80-minute episodes
Rating: TV-PG
2. A Charlie Brown Thanksgiving / The Mayflower Voyagers
The Peanuts head to the new world, where they get help from a Native American named Squanto and celebrate the first Thanksgiving.
Length: 24 minutes
Rating: NR
3. Yakari
This animated series follows a young Sioux named Yakari—who's blessed with the gift of being able to communicate with the animal kingdom—as he embarks on a variety of adventures with his faithful pony, Little Thunder.
Length: Two seasons: Twenty-six 24-minute episodes
Rating: TV-Y
4. The Little Hawk Show
Join Little Hawk on his Native American journey in the tradition of his ancestors. Enjoy these entertaining stories and songs for all ages that teach how to live "In A Good Way."
Length: 30 minutes
Rating: NR
5. The Song of Sacajawea
Journey up the Missouri River and across the Rocky Mountains with the Lewis and Clark expedition—guided by an extraordinary seventeen-year-old Native American woman named Sacajawea.
Length: 27 minutes
Rating: Ages 6 and up
6. The Return of a Man Named Horse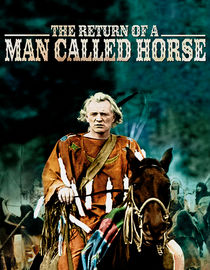 Lord John Morgan has returned to civilized life in England, but his disdain for the aristocracy inspires him to embrace the simplicity of the American West—and the Yellow Hands Sioux tribe he left behind. When Morgan reaches the tribe's land, he discovers they've been decimated by ruthless, government-backed fur traders. Now, to help his friends survive, he must lead the fight to regain their land.
Length: 125 minutes
Rating: PG
7. Crooked Arrows
Preparing to square off against the superior teams of an elite prep-school league, the rag-tag members of a Native American lacrosse squad gain confidence on the playing field as their coach inspires them to take pride in their cultural heritage.
Length: 105 minutes
Rating: PG-13
8. Native American History and Society: Native American History
Explore the fascinating history of the Native American people. Follow their history from migration to the Americas to the development of civilizations throughout the American continent.
Length: 26 minutes
Rating: NR
9. Native American History and Society: The Great Native American Civilizations
Explore the variety of civilizations in North America before European contact. Learn about the ways of life, government, economy, religion, and laws of the early Native Americans.
Length: 19 minutes
Rating: NR
10. Native American History and Society: Native American Influence on the U.S.
Discover the fascinating ways in which the U.S. was profoundly affected by the native cultures that were here thousands of years before the Europeans.
Length: 26 minutes
Rating: NR