Note: This post is part of our Netflix Academy series. See background, and links to other educational videos worth streaming, here.
I love the dinosaur stage. Love, love, love. And when your child is ready to graduate from Dinosaur Train and take in some lifelike depictions of prehistoric monsters, this is where to start.
Walking with Dinosaurs is hard to beat, as are its cousins, Walking with Monsters (pre-dinosaur animals) and Walking with Beasts (post-dinosaur). The entire Walking series has a great narrative and is dominated by lifelike scenes of animals in action. The rest of these shows focus more on modern-day paleontologists—a great window into science but a tougher sell for short attention spans.
If I've missed something good that's on Netflix or Amazon Prime, please let me know in the comments section.
Best dinosaur videos available for streaming
1. Walking with Dinosaurs
Using cutting-edge computer-generated imagery, this Emmy Award–winning series brings to life the Cretaceous, Triassic, and Jurassic periods, focusing on individual dinosaurs, or dinosaur families, to show the ever-changing Earth through their eyes.
Length: Six 29-minute episodes
Rating: TV-G
  
2. Allosaurus: A Walking with Dinosaurs Special
This moving film centers on the existence of a dinosaur that lived millions of years ago. With incredible special effects and astounding insights, Allosaurus is an impressive and touching look at the world's largest beasts.
Length: 30 minutes
Rating: TV-G
  
3. Clash of the Dinosaurs
Learn the secrets of powerful predators and how herbivores survived in a dino-eat-dino world. Then get the inside story on dinosaurs' mating habits.
Length: Four 45-minute episodes
Rating: TV-G
  
4. Dinosaurs: Giants of Patagonia
Donald Sutherland narrates this larger-than-life IMAX production that explores the history, evolution, and extinction of the dinosaurs.
Length: 40 minutes
Rating: TV-G
  
5. Prehistoric Creatures
Unearth some of the world's most stunning dinosaur finds.
Length: 71 minutes
Rating: TV-G

6. Dinosaurs Unearthed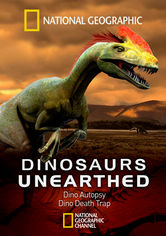 National Geographic explores two landmark finds: a 70-million-year-old mummified dinosaur and a Jurassic graveyard full of prehistoric creatures.
Length: Two 46-minute episodes
Rating: TV-PG

7. Dinosaurs Alive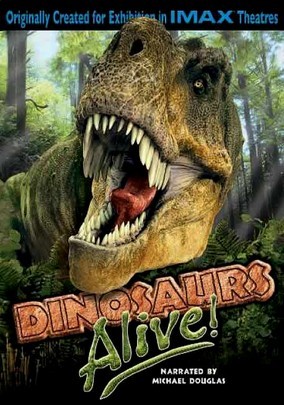 Join the world's preeminent paleontologists in this eye-popping IMAX adventure as they uncover some of history's most astonishing dinosaur finds.
Length: 40 minutes
Rating: NR
  
8. Prehistoric Planet
Forget everything you thought you knew about dinosaurs, as cutting-edge paleontological discoveries shine new light on the prehistoric beasts.
Length: Four 45-minute episodes
Rating: TV-G
  
9. Sky Monsters
A little-known dinosaur that could fly despite its considerable mass is resurrected by stunning computer-generated imaging and impressive engineering.
Length: 90 minutes
Rating: TV-PG

10. Planet Dinosaur
For decades, the dinosaurs of Africa were lost to us. But recent discoveries have now revealed some of the most spectacular dinosaurs ever found: two giant killers, both bigger than T-Rex. One of these has captured our imaginations: Spinosaurus, the biggest killer known to have walked the earth. Only now has evidence been unearthed that reveals just how two giants managed to survive side by side.
Length: Six 29-minute episodes
Rating: TV-PG